Huaqing Packaging Technology Project Display
In 2021, Huaqing Packaging will fully implement the new development concept, accelerate the construction of a new development pattern, focus on "stabilizing, advancing, and improving quality", unswervingly strengthen the drive in technological innovation, and lead high-quality leap-forward development. Let us look back on the innovation practice of Huaqing Packaging this year, and have a glimpse of the glorious history of the company's technological innovation projects
1. Integrated construction of "three systems" of enterprises
ISO9001 quality management system ISO14001 environmental management system, ISO45001 occupational health and safety management system, the three system standards contain rich advanced management ideas and theories, and are the programmatic guidance documents for enterprises to carry out quality, occupational health and safety and environmental engineering.
In 2021, the company will take safety production as the main line, based on quality management, compatible with occupational health and safety and environmental management requirements, actively carry out the implementation of the three system standards, establish an integrated management system, comprehensively standardize management behavior, and strive to improve the quality of enterprises and employees. Comprehensive quality; emphasizes the leadership role as the core, adopts an infinite cycle of four processes of planning, operation, evaluation and improvement, sets goals, focuses on key points, accelerates progress, and achieves high-quality development.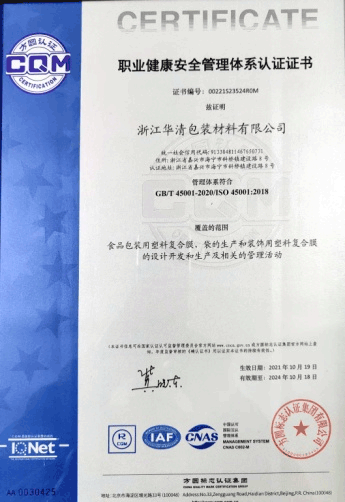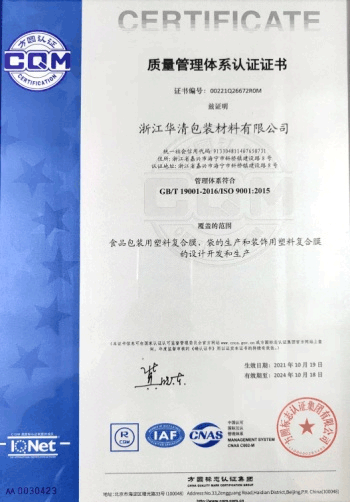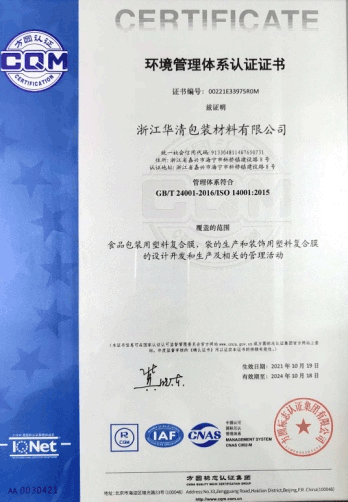 2. Set standards, set benchmarks, and lead the development of the industry
The word mark is the LOGO of the "Made in Zhejiang" brand, the regional brand image of the advanced manufacturing industry in Zhejiang, and the benchmark and leader of the manufacturing industry in Zhejiang.
The "Composite Decorative Film for Integrated Ceiling Thermal Bonding" drafted by the company was officially released, and the Zhejiang manufacturing group standard was officially released. The high recognition of quality construction achievements in the past 20 years is the company's brand honor. At the same time, as a leading enterprise in the national ceiling film industry, it is also responsible for the brand building mission of leading the industry to standardization and specialization.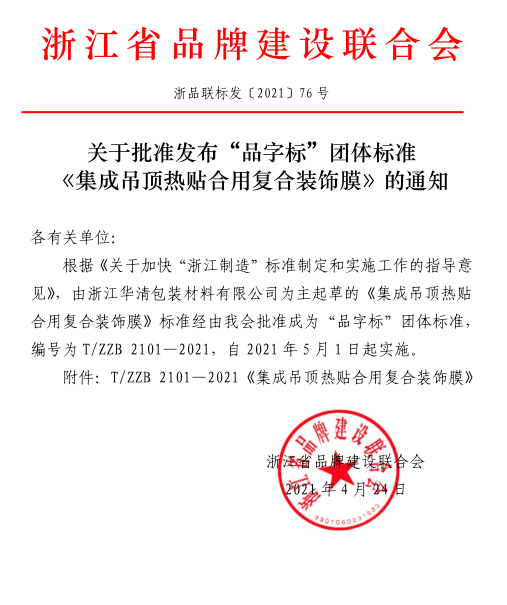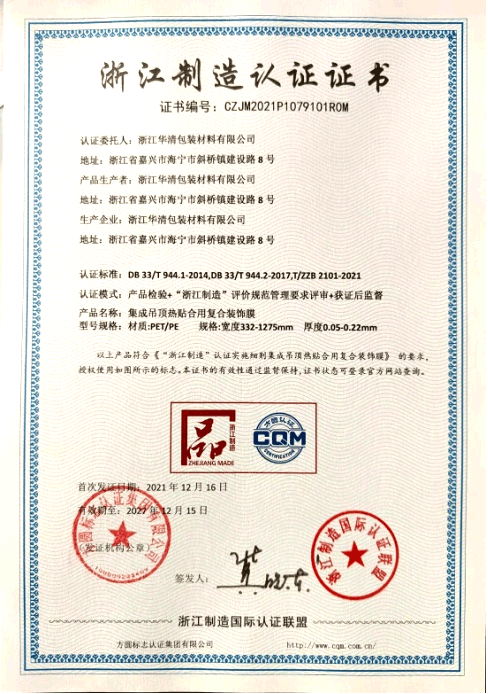 3. Create a provincial R&D center and build an innovation carrier
The provincial high-tech enterprise R&D center is the core of the enterprise's technological innovation system, the main technical support for the technological progress and technological innovation of the enterprise, and an important part of the technological innovation system of Zhejiang Province.
The "Zhejiang Huaqing New Polymer Composite Film High-tech Enterprise Research and Development Center" established by the company was officially approved after a series of strict evaluation procedures such as on-site inspection, evaluation and comprehensive scoring by the expert group. The implementation of industrial applications has far-reaching significance, providing a strong guarantee for the technological innovation of enterprises and the industrialization of high-tech achievements.


4. More "point" breakthroughs, innovation and development bear fruit
  In 2021, Huaqing Packaging has passed 2 provincial appraisals of new product scientific and technological achievements, 2 scientific and technological achievements registrations in Zhejiang Province, and 6 authorized utility model patents. Gazelle Enterprise Cultivation Object.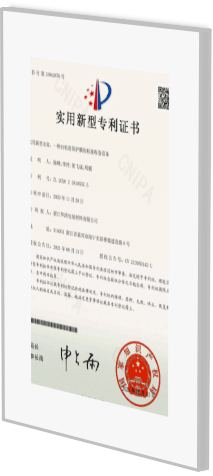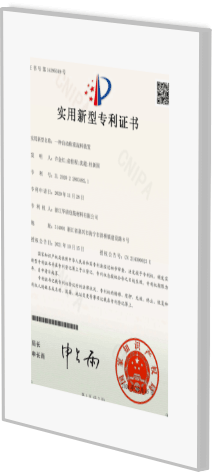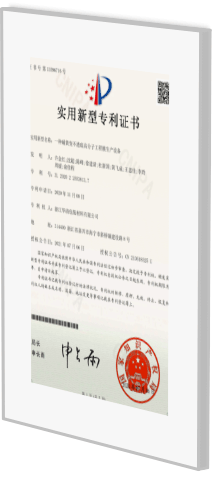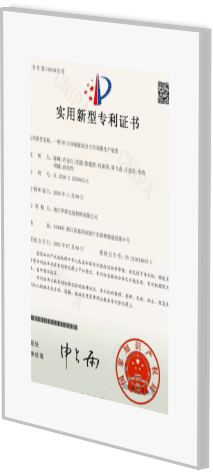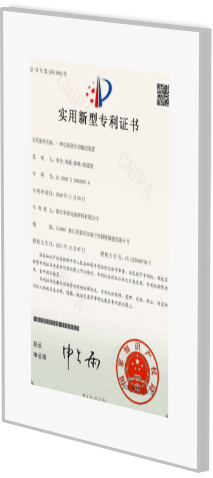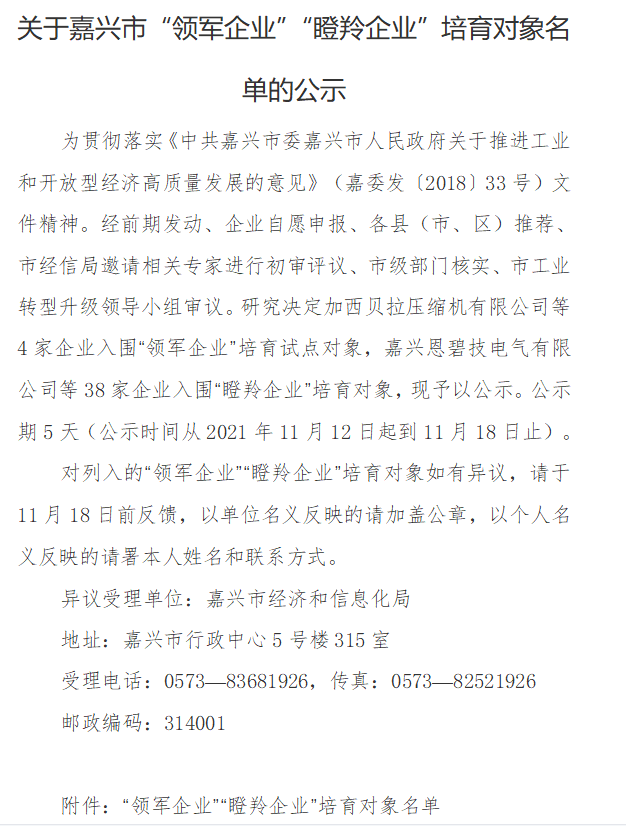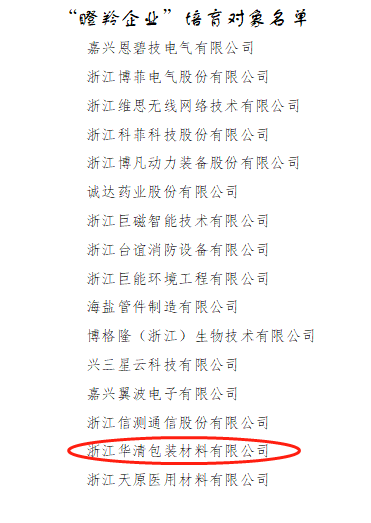 5. Unswerving and vigorous development
  Huaqing Packaging always regards scientific and technological research and development and product innovation as the core competitiveness of the enterprise, and with more focused innovation and tackling, closely combines the development trend of the times and industry needs, actively promotes the combination of technological innovation and industrial application, and constantly explores the industry. new path of development.
2022, let's start together again!
Zhejiang Huaqing Packaging Materials Co., Ltd.
Address: No. 8 Jianshe Road, Xieqiao Town, Haining City, Zhejiang Province, China
Postcode: 314406
Telephone:0086-573-87076788 87718869
Fax:0086-573-87076798
post code:master@huaqingbz.com