Obtained the national high-tech enterprise certificate
The bell of 2018 New Year is about to ring. On the occasion of saying goodbye to the old and welcoming the new, Haining Huaqing Packaging also welcomes the good news. After review by experts from the Ministry of Science and Technology, the Ministry of Finance and the State Administration of Taxation, Huaqing Packaging was recognized as a national high-tech technology enterprise. Recently, the company has also received the "High-tech Enterprise Certificate" jointly issued by Zhejiang Provincial Department of Science and Technology, Zhejiang Provincial Department of Finance, Zhejiang Provincial State Taxation Bureau, and Zhejiang Provincial Local Taxation Bureau, valid for three years, starting from November 13, 2017. From November 12, 2020, it officially entered the ranks of national high-tech enterprises.
Obtaining this certification marks that Haining Huaqing Packaging Materials Co., Ltd. has been affirmed and recognized by relevant national departments in terms of independent research and development and technological innovation, and it is also another milestone in the company's development history. In the future, Huaqing Packaging will continue to introduce high-quality talent teams to provide a fundamental guarantee for independent innovation; pay more attention to independent innovation, protect intellectual property rights, and enhance the core competitiveness of the company; continue to increase investment in scientific research to enrich the company's innovative development potential; further Strengthen the company's technological innovation ability and scientific and technological achievements transformation ability, provide strong technical support for the sustainable, healthy and rapid development of the enterprise, and strive to become the backbone of the leap-forward development of the flexible packaging and decorative materials industry.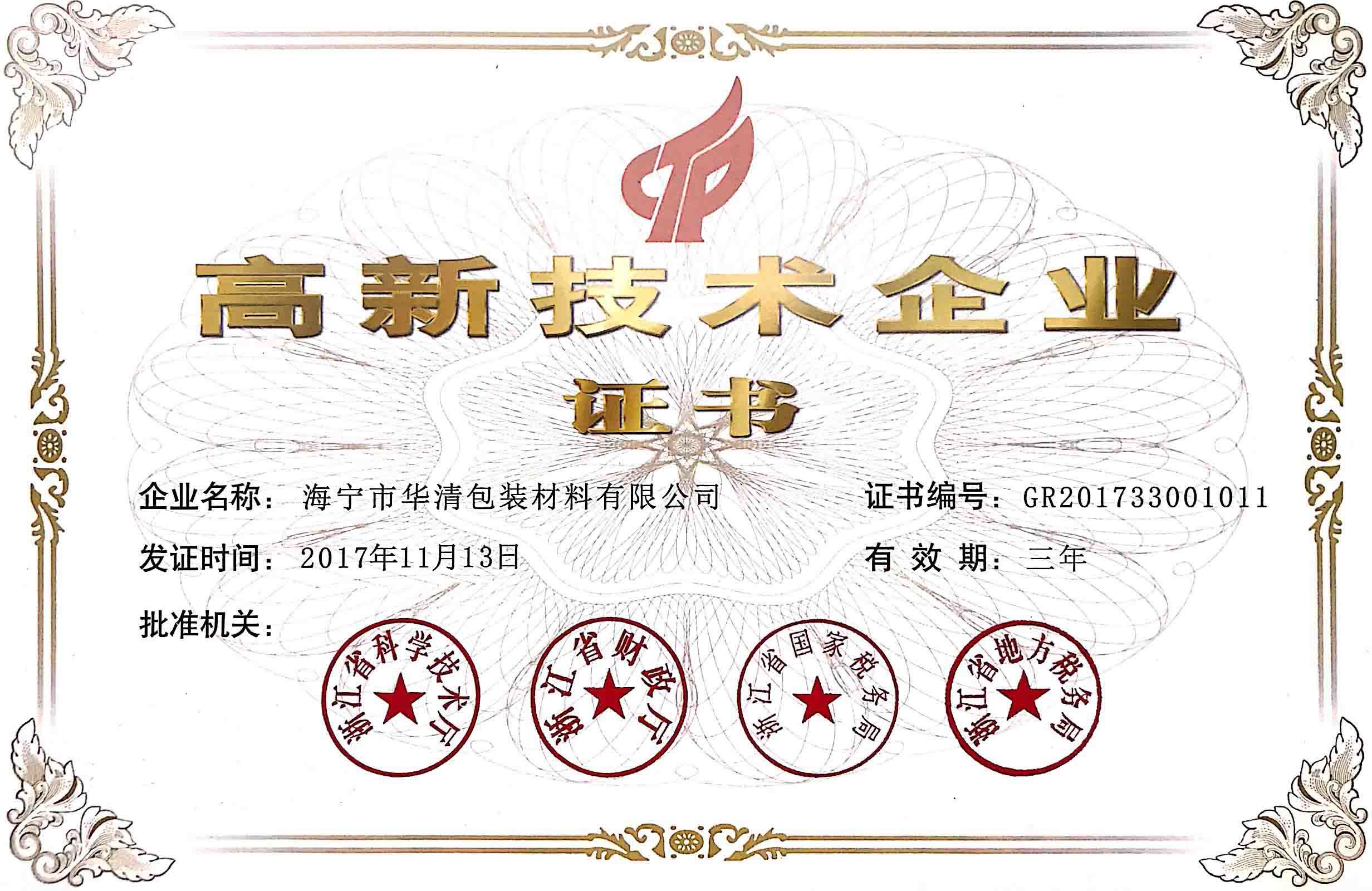 Zhejiang Huaqing Packaging Materials Co., Ltd.
Address: No. 8 Jianshe Road, Xieqiao Town, Haining City, Zhejiang Province, China
Postcode: 314406
Telephone:0086-573-87076788 87718869
Fax:0086-573-87076798
post code:master@huaqingbz.com